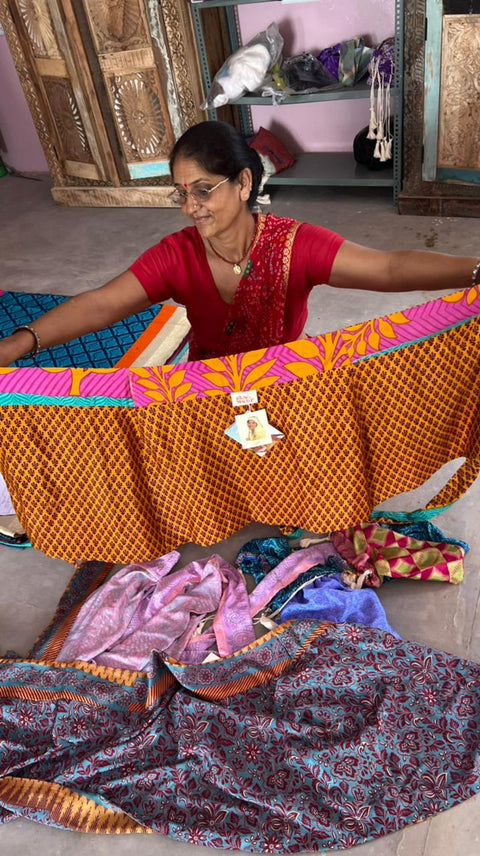 For the very first el.résidu collection, I used vintage sari fabrics, handpicked in India.
Saris are traditional garments worn by women in India. The word ''sari'' means literally ''piece of fabric'' in Sanskrit. A sari contains about 4 to 9 meters of fabric, mostly made out of silk and cotton qualities. Later on, synthetic qualities like viscose and polyester came onto the market. The saris we used for this collection are made of silk, cotton-silk, cotton and viscose blends.

What makes these fabrics so special, is that the existence of saris is centuries long. The first mention of saris in a Hindu verse, is dated out to 3000 years BC. Saris are still traditionally worn by lots of Hindi and Muslim woman. Not only in India, but also in Pakistan, Bangladesh and Nepal.
Saris are very colorful and have beautiful prints and sometimes also embroidery. The symbols that are used in the prints have a certain meaning. Lots of the animals that are used on saris, like elephants, peacocks and lions, represent things like royalty, power and wealth.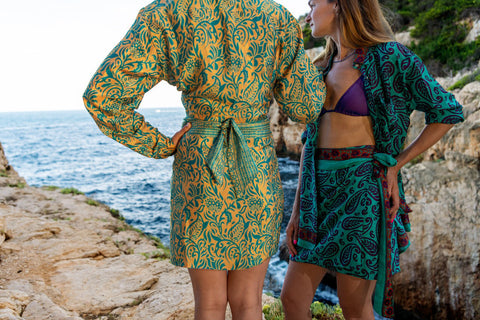 The designs of the first collection are all timeless pieces, which can be worn and styled in multiple ways. All items are available in two sizes (S/M and L/XL). Each item is made with a limited stock, all in different prints, which make them all unique pieces.

This collection is for all the daredevils out there, who are not afraid of wearing bright colors and remarkable prints. For the ones that want to connect on a deeper level with their clothes, by respecting and embracing the beautiful journey they've had already and making new stories together!  


*A small side note:
As the fabrics that were used are made out of pre-loved materials, it may show some imperfections. I believe that this is the beauty and charm of up-cycled materials and makes it even more special for you to wear. 
Shop collection