The story behind el.résidu
sustainable clothes that are honest, outspoken & make you happy!
Do you also love colorful and beautiful clothes? I do!
At least…if they are comfy, fit my personality, are unique, beautifully made,
have good quality and most important; that I don't have to feel guilty about the way they're made.
A lot of sustainable brands are focused on high quality basics, which in my opinion
we have enough choice in already.
But, sustainable clothes don't necessarily have to be basic, right?
That's why I decided to start my own label; el.résidu, serving unique colorful items,
so now you can make this choice as well!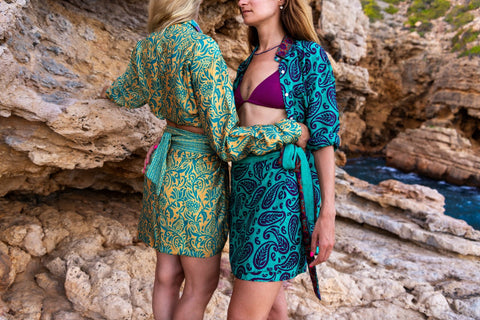 ''So be the change you wish to see, say it, act on it, wear it''
What is el.résidu?
el.résidu stands for residue, which means remaining, left-overs or unused.
With this brand I want to show the beautyness of left-over, pre-loved & vintage fabrics and turn them into new unique pieces with a beautiful story that remains with their new owner.
It is my aim to give clothes back the value they deserve, by designing timeless items that can be styled in multiple ways, so you can create your own style with it!
I can talk for hours about this topic..but let me try in short:
> Beautiful & flattering items
-made to let you shine!

> Fashionably, trendy and unique
-they're all one of a kind

> All items have a large fit range
-So, these extra pounds during wintertime don't really matter 😉

> All items can be styled in several ways and are easy to combine with your own wardrobe!

> All fabrics are hand-picked carefully
-made from the best and comfiest qualities

and most importantly:

> All items are sustainable & ethically made by my partners in India
For who is el.résidu?
That's easy, for YOU of course!
Because you find it important to make conscious choices but still look fashionable and modern. If you buy something, it should have a certain value and meaning to you. You have created your own style during the years and are not afraid to show it – anything but boring!
That's also why I decided to make 40% of the collection unisex. So all items can be styled by you - and any other, in your own personal way. This is also one of the main goals I want to achieve. I'll just give you some inspiration on the possibilities of the garments, the rest you fill in yourself.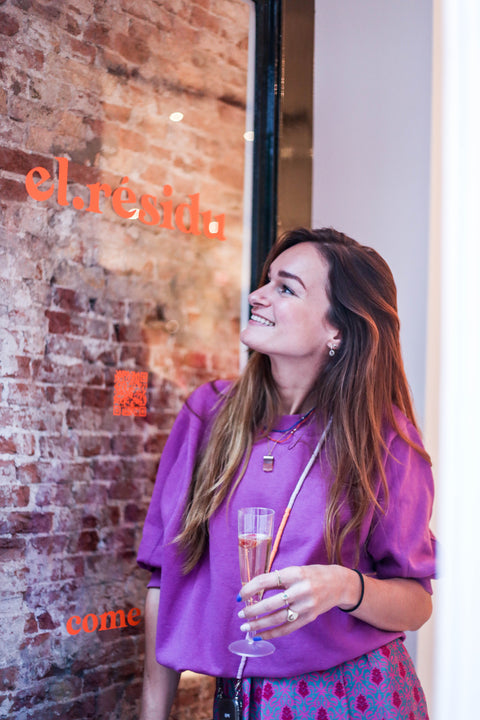 And who am I? – you might wonder
My name is Ella! I live in Amsterdam since I was eighteen and have worked within the fashion industry as a designer for eight years now.
Even though times are changing, within the current fashion industry it still seems to revolve around fast fashion trends, cheapest productions and biggest sales. Clothes have lost their value and are seen as disposable products by many people which causes the (fast)fashion industry to be one of the most polluting industries we have on earth. 5% Of the total CO2 emissions are coming from the textile, fashion and shoe industry.
I believe that if you want to change something in the world, you have to start by yourself first.
So, since I didn't want to contribute to this polluting environment anymore, I decided to do things my way. With el.résidu I try my best to reduce the pollution by up-cycling materials that already exist and giving them a second chance to live. I want to make items with which you'll make a deeper connection, items that you cherish and make you feel good. Where comfort and beauty of the materials comes first!
Through this way of working, I try to keep my footprint as small as possible and do my part on making this world a better place! 😊
Besides reducing and reusing materials, it is also my aim to shine light on the actual makers behind the brand, which are in my eyes the real artists!
I really see the way of working with my partners as a co-creation, where we work together on the designs as a (dream)team. It is my goal to create more consciousness about the whole production process of clothes, which is kept in the dark for way too long!
Therefore, I created a small hang tag on each garment with a small story about the maker of this item, to inform you about the making process.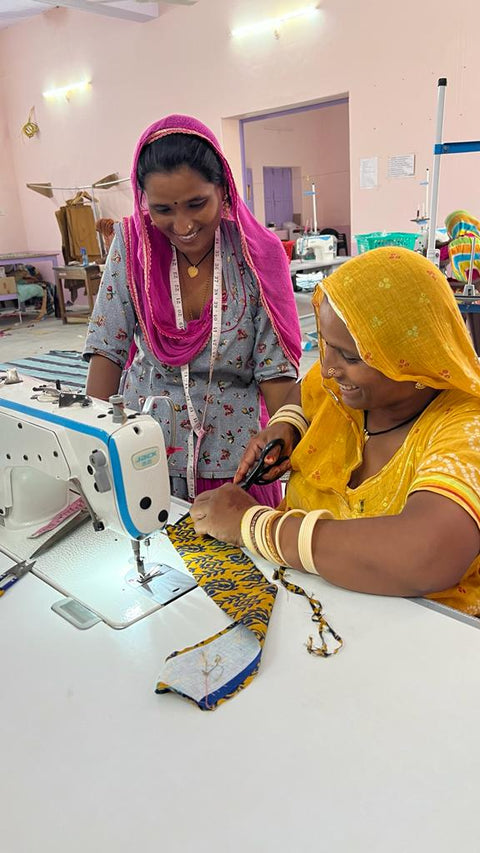 One of my partners for the first collection is Saheli Women. This is a non-profit social enterprise, founded by IPHD in 2015, with the aim to financially empower the ladies of Bhikamkor village in rural Rajasthan through creating ethical and sustainable fashion. It is a female (owned) atelier established on fair and inclusive principles, with the aim to create prosperity through livelihood opportunities. To achieve this, they empower women through teaching them traditional and modern embroidery techniques. Their atelier is a fear-free creative place for ladies to work where they get the freedom to design their working hours and holidays. See their website for more info.
Saheli Women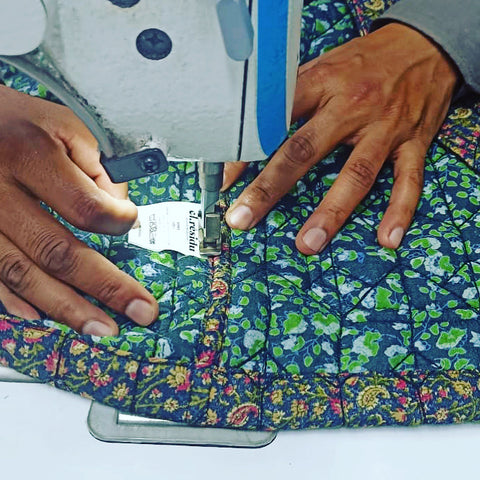 Want to know more about the brand, my partners, my mision, the way I work or just having some questions? Feel free to contact me!
contact me